Save Money at Karori Hairdressers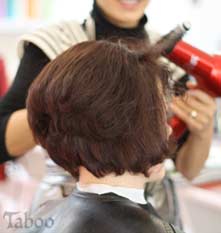 Why are so many clients now leaving the city hairdressers to go to suburban hair salons?
"The only difference between suburban and inner city hair salons in Wellington is the price", says Tina Fox – Professional Hairstylist at Taboo Hair Salon in Karori.
Tina who has been a hairdresser for 25 years and has previously worked in several inner city hair salons, said that "Because the rents are so high in the Wellington CBD area, the city salons have no choice but to pass on the extra cost to their clients".

"The reality is that clients are losing money by paying as much as 35% more to the landlords for the privilege of having city hairdressers cut and style their hair, not to mention the additional parking costs too".
Clients could potentially save hundreds of dollars a year simply by driving as little as 5-10 minutes out of town to a karori hairdresser of equal skills, qualifications and experience. For exactly the same quality (or better) result.

Or for the cost of a Junior entry-level hairdresser in town doing your hair, you'd likely get a well experienced Senior-level hairstyist in the suburbs (such as myself) for practically the same price. It's just better value for money.
Balayage Highlighting Makeover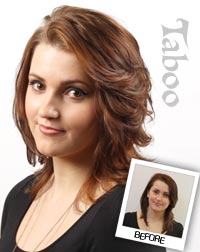 Our Hair Colourist used a highlighting technique called Balayage for this hair colour model makeover [as pictured]. Balayage produces a great sun-kissed, free-flowing highlighting effect that has become very popular in Europe and America. Several Hollywood celebrities like Jennifer Aniston, Cameron Diaz, Drew Barrymore,
have all recently chosen Balayage hair colour styles for their new glamorous looks. Now you can too - as this service is available at our Wellington salon.
For more information, including a video clip demonstrating Balayage Highlighting by our own Tina Fox - check out Balayage Highlights

Taboo's Hairstyle Makeovers
Check out the hairstyle fashion photo shoots from Taboo Hair Salon in Karori.
All hair colour, cuts and styling done by us. A big thanks to our super-model clients (Sarah, Kate, Katie and Jo) for participating in our Salon's photo shoot makeovers.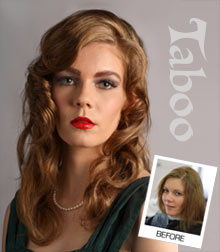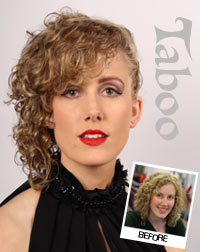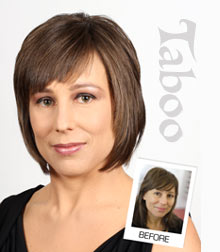 More photographs of the hairstyle makeovers on our Portfolio page

Colour Training in Los Angeles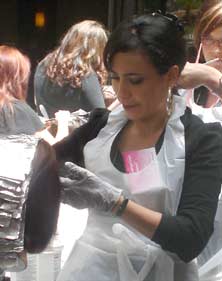 Wellington's own Karori Hairdresser Tina Fox from Taboo Hair Salon - traveled to North America for professional
hair colour training at the Energizing Summit in LA.
An event which was organized by
the American Board of Certified Haircolorists (ABCH).

The training Summit had over 40 top industry educators from all over America, teaching the latest hair colouring & foiling techniques used by America's top professionals.

Out of the 600+ attendees enrolled at the Summit. Tina Fox was the only New Zealand (Australasian) hairstylist to attend this advanced haircolourist training event. Tina says "I was very impressed with the professionalism and quality of the courses in America. They were all of such high standards".
"I was able to learn lots of the latest cutting-edge techniques and processes, including Balayage. Which I was able to bring back to New Zealand with me". "It was great being taught by some of America's top haircolourists" she says.

Taboo's Updo Creations


Are you looking for a new hair-up style for your wedding, ball or special event? To see some of the latest photographs of updo designs by Tina Fox
at Taboo Hair Salon Karori, check out Hair Up Designs

Call now for a free consultation with Tina to discuss your next hair up design.
Be sure to book early.

Pink Hair - Rock Star Style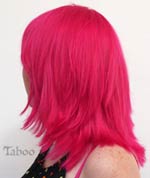 Have you ever wanted to try
this radical hair colour style?
Wow Factor - Pink!
Taboo's Hair Colour Specialist reproduces the popstar celebrity look and explains some of the advanced hair colouring techniques she used to achieve this awesome end result.
Pink Hair - Rockstar Style


Current Featured Article


Misleading Salon Advertising
Is the use of commercial stock photos in salon
web sites and print advertising potentially deceiving to the public?
This thought provoking article explores
this questionable industry practice.
Misleading Salon Advertising



Client Comments,
Reviews & Testimonials

We just love to receive reviews, comments and suggestions from our clients. Thanks so much to those who have taken the time to write feedback for us. It's very much appreciated. We know that there is a lot of hairdressing salons to choose from in Wellington. Thanks for choosing to come to us.

Our recent customer hairdressing reviews and comments :-
"I recently had my hair chemically straightened by
Tina at Taboo Salon. I was really happy with the result.
My hair looked amazing."


"Thanks so much for the wonderful hairstyle. I've received
so many great compliments from everyone at work."

"I always find coming to Taboo to get my hair done a
warm and friendly experience - like visiting an old friend.
The service is excellent and I am always very pleased with
what Tina does with my hair."

"Tina has been cutting and colouring my hair for nearly
3 yrs. The compliments that I now get about how good
my hair looks and how much the colour suits my skin
colouring are very rewarding. I would recommend Tina
to anyone. In fact, I have already told a number of
people to see her."

"Great haircut and colour. You made me feel wonderful."


To write and submit a comment, suggestion or testimonial regarding the service you have received from Taboo Hair Salon - please click here


Looking for Wow from
a Karori Hairdresser ?

As an experienced Karori hairdresser, we know how to make you look great, to give you the haircuts & hairstyles that will make your friends say WOW!
We listen to what you want and can show you what's possible with your hair type. You can be assured of professional good looking results. In fact, we guarantee it. Because at Taboo, we employ only experienced NZ qualified hairdressers (hairstylists), use only the best professional hairdressing tools and hair salon products. We love to make our clients look and feel great, now you can too.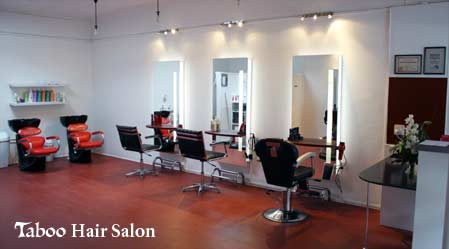 Call now for an appointment - Taboo Hair Salon Wellington (04) 476 7077