Spreading The Word - NZARH
by Tina Fox - Wellington Hair Stylist/Director at Taboo*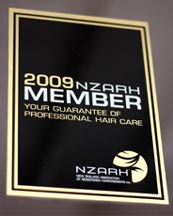 Ok, so you're a proud member of the
New Zealand Association of Registered Hairdressers (NZARH). You've got the association's logo in the salon window, maybe on your business cards and perhaps even displayed in your yellow pages advertising. But, what does that really mean to your clients and potential customers? Do they know about the
NZARH, what it means and what benefit
it is to them?
The NZARH is always exploring marketing initiatives and constantly looking for ways to promote the association and build public awareness for its members.
However, there is a lot that individual members like us can do to inform the public about the NZARH. Simply by you (and your staff) talking to your clients and educating them on the benefits for choosing to come to a NZARH member salon such as yours.
Make sure your clients know exactly what the NZARH logo means when they see it and why they should lookout for it when selecting a salon.
During your client's next appointment or consultation, simply tell them that your salon is a member of NZARH and that it had successfully met the strict criteria required for joining (e.g. fully qualified staff, on-going industry training, etc). Also, about the assurance of professional quality haircare guaranteed by the association. As this will help build client confidence, trust and perceived value in your workmanship.
Building awareness and generating word of mouth for the NZARH will ultimately differentiate your salon as a professional establishment in the eyes of your current and future clients, giving you the competitive advantage over all non-member salons in your area.
Together we can help each other get the most from our NZARH membership. Simply by spreading the word and increasing public knowledge of the association. In the end it's all to our benefit. So let's all get talking.


Other Articles on Taboo Hair Talk Pages
Recession Hits NZ Salon Industry
Misleading Salon Advertising & Websites
Pink Hair - Rock Star Style
Wellington Hairdressers
Your Hairstyle is Important