The Gift Voucher for all Occasions
Whether you're looking for a Christmas, birthday, mothers day gift
or anniversary present. Trying to think of great gift ideas to give friends, family or loved ones is hard work. Why not make it easy for yourself and
take the hassle out of gift giving with a Gift Voucher that they're sure to love.
Taboo Hair Salon gift vouchers are the ideal gift idea for all occasions.
They are redeemable for all services and retail products available at our Wellington Salon.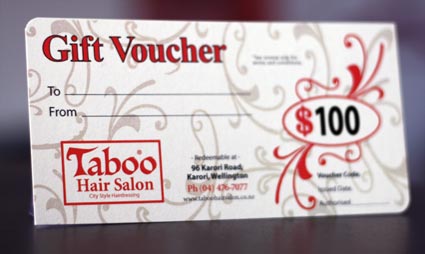 *Vouchers remain valid for 12 months from the date of purchase.
*Additional Conditions Apply: Voucher - Terms and Conditions