Hair Colour Services


Expert Knowledge & Experience in Hair Colour and Highlights
Selecting the right hair colour for your hair can be a very tricky process. There are important factors to consider and assess before hand, such as:-

• Will your existing hair colour blend with the colouring dye to produce the colour you want?
• Whats the current condition of your hair and will it affect the end result?
• Will the new hair colour even suit you?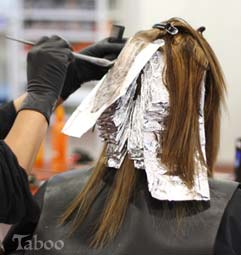 These questions and more can be answered and properly assessed by a professional Hair Colour Specialist. We provide you with a free consultation with our Expert Hair Colour Consultant
- Tina Fox.

Over her 20 year career in hairdressing, Tina has consistantly worked with and used several major professional hair colour brands (such as: Matrix, Redken, Wella, Goldwell, Paul Mitchell, Schwarzkopf among others). She's also had advanced hair colourist training in the United States. Because of which, she has accumulated valuable knowledge and expertise that will help give you amazing hair colour and highlights.

Plus provide you with tips and advice that will make your new hair colour last longer. You can be assured of great-looking results. Because, unlike other hair salons and hairdressers we don't just say we're good - we guarantee it.

To see a portfolio of Tina's hair colouring and highlighting work,
simply visit her Tina Fox webpage and balayage highlighting for photos.

Recent Client Comments :-

"Great colour, warm blended foils,
thanks so much for an exciting new me."

"Haircut perfect and hair colour perfect.
Boy, why did it take me so long to find you???"

"I have been coming to Tina for awhile now and
I'm always satisfied with my hair. I have also
recommended Tina to a few people."

"Tina does a great job with my hair and always listens to
what I want. I love my new colour & cut. Great service! "

"Always delighted with results and the colour lasts
very well, much better than others I've tried."

"With Tina's help my hair is the nicest it's ever been.
Very happy."

Professional (Quality-Work) Guarantee
We're so confident in our outstanding Hair Colour Service and completely sure that you will be totally delighted with your new hair colour -
we guarantee it.



"If You Don't Absolutely LOVE Your New Cut &
Colour, We'll Re-do It For FREE Until You Do."
*Taboo Hair Salon - Guarantee
Conditions Apply.

See For Yourself - Book for an appointment today!


Hair Colour Correction Service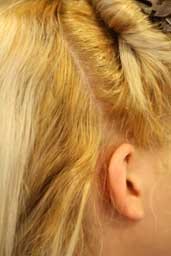 Wanted an attractive blonde colour, but got an awful blotchy
orange hair colour instead?
Our specialized colour correction service is especially designed to help fix hair colour problems which can result from hair dying and bleaching.
The most common hair colour problems
we deal with at the salon is often caused
by take home hair colour products or even hairdressers who incorrectly evaluate
and process their client's colour.
This can happen because there are numerous important factors that
needs to be properly evaluated before correctly processing hair colours.
Such as: The client's existing / natural hair colour, hair texture and
current condition, the required colour formulation needed for the desired
result, application technique and processing procedure used.

Incorrectly assessing any of these elements can often produce
unsatisfactory results or even cause damage to your hair.
Our Senior Colour Specialist - Will help you to properly fix your
hair colour disaster.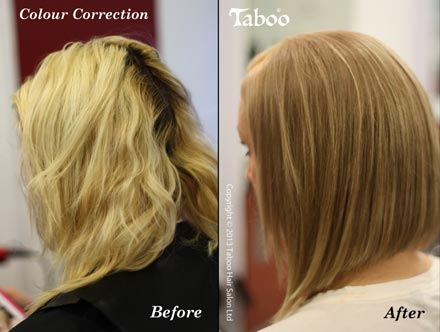 Photo - Colour correction procedure performed by our Hair Colourist Tina Fox.




Are You New to Hair Colour?
In a small number people, the use of hair colouring can result in allergic reaction or skin irritation. To help prevent possible allergic reactions,
we advise that new clients who haven't used hair colour before, should have
a skin patch test (allergy test) done 48 hours before the colouring process,
to ensure there's no allergic reactions to the colour mixture.

The patch test involves applying a tint drop of colour mixture directly to the skin, over a 48 hour period. We can quickly organize a patch test for you
(free of charge) at the salon.

Call Now for a free consultation with Tina Fox
at Taboo Hair Salon, Karori, Wellington Ph: 0800482266 or Book online