Feather Hair Extensions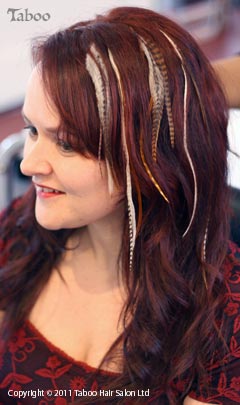 The hottest styling trend that is sweeping the fashion world right now is feather hair extensions.
Celebrities as such Jennifer Love Hewitt, Hillary Duff, Kesha, Steven Tyler - among many others have all adopted feather hair extensions to enhance their stylish fashionable looks -
now you can too!
The feather extensions that we use at the salon are all-natural, top-quality, hand-crafted and exclusively sourced from the USA - by Fine Feartherheads™

They can be brushed, blow-dried, curled and straight ironed (up to 230°C). Can last up to 4 months, depending on how they're cared for. They can literally be treated like natural hair.
Each individual feather hair extension consists of four natural feathers bonded together at the tip. The extension is attached to a concealed section of your existing hair using a micro link bead which firmly secures it in place once the bead is compressed with pliers. The micro link is silicone lined, which also helps to protect the hair.
The cost ranges from $43 to $54 per extension depending on it's length,
plus a installation fee of $10 per appointment.
Feather Hair extensions are an excellent way to add a whole new styling dimension to your hair, whether you're going for a subtle or dramatic highlighting effect. They're fun, interesting and easy to look after.
To watch a video demonstrating feather hair extensions being applied at our salon - simply click on the video clip below.
If you would like to make an appointment or for more information -
call us on (04) 476 7077.